The Israeli Minister of Communications called on Bezalel Smotrich to demolish a Palestinian village every day and eliminate the Palestinian Authority, in retaliation for the International Criminal Court's decision to launch an investigation into war crimes that Israel may have committed in the West Bank (including East Jerusalem) and in the Gaza Strip.
In a tweet posted on his page he called the ongoing Goverment's Prime Minister Benjamin Netanyahu, the Israeli minister called for the destruction of the Palestinian Authority and the demolition of a Palestinian village every day, if the authority did not retract the case it brought against Israel before the International Criminal Court.
Smotrich said that the authority "causes great harm to Israel in international forums, and it is better for Israel to work towards its collapse", and described the court as "an anti-Semitic political body."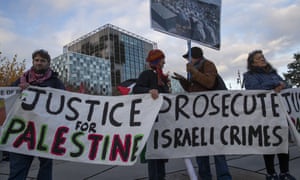 Smotrich asked the Israeli government to give the Palestinian Authority 48 hours to withdraw any international claims and complaints against Israel.
Fatou Bensouda announced her intention to open an investigation into possible Israeli war crimes in the Palestinian territories.
In May 2018, a Palestine formally submitted a request to refer the file of Israeli war crimes against the Palestinian people to the International Criminal Court.
At the end of December 2014, Palestinian President Mahmoud Abbas signed the Rome Statute and its annexes, related to the International Criminal Court, while the latter agreed to the request of Palestine and has been a member of it since April 1, 2015.
In the same context, on Saturday, politicians in Israel attacked the International Criminal Court.
Blue and White party leader Benny Gantz, Netanyahu's main rival, said that "There is no basis for calling for an investigation against Israel,
the government coalition, the opposition and others, stands together", claiming that the Israeli army is "the most moral army in the world", and that "Israel and its army do not commit any war crimes" ".
In turn, the leader of the "New Right" party, deputy in the Knesset (Parliament) Ayelet Shaked, said that "it is necessary for Israel to face the decision of the criminal court, with all the tools available to it," considering that the court has no authority to carry out such investigations.
As for Israel's ambassador to the United Nations, Danny Danon, he described the ICC decision as "persecution of the State of Israel."
He added that "the Jewish people have historical and legal rights in their land, and legal acumen will not erase them," according to the Israeli channel itself
On Friday, Netanyahu said, commenting on the court's decision, that it represented a "dark day of truth and justice", and considered that this decision turns the International Criminal Court "into a political tool to delegitimize the State of Israel