Illegal infiltrators
Describing African refugees numbering about 40 000 as "infiltrators", Netanyahu said they had two choices. They could either accept a once-off payment of $3500 (R42300) and relocate to another African country or spend the rest of their life in jail in Israel. They have until March to decide.
The announcement drew immediate outrage earlier this 2018. But for those following the daily travails and humiliation endured by African refugees in Israel, it was the brazenness of Netanyahu's crass plan that has appalled us.
The Israeli newspaper Haaretz reported in October that Netanyahu signed a deal with Rwandan President Paul Kagame at the U.N. in September to deport African migrants from Israel to Rwanda. The alleged agreement drew a sharp rebuke from the country's human rights groups.
Netanyahu said that Africans who have arrived in recent years "posed a real threat to the future of the State of Israel as a Jewish and democratic state."
Concentration Camps
The recent release of 1,200 prisoners from a detention center in the Negev Desert is not a signal that Israel is rethinking its harsh treatment of refugees. Thousands of immigrants still face a choice between imprisonment and repatriation to their war-torn countries.
Some 65,000 African refugees are believed to currently live in Israel. In May, The Washington Post reported that Israel sent letters to 45,000 refugees from Sudan and Eritrea, offering them a choice: They could accept accept a cash payment and a one-way ticket back to Africa, or they could go to prison. Israel also began construction of a massive fence to prevent the entry of more refugees this year.
In February, Amnesty International strongly objected to the treatment of African refugees in Israel, both in and out of detention:
"Asylum seekers were prohibited by law from taking paid work and had little or no access to health care and welfare services. Meanwhile, the authorities pressured many to leave Israel 'voluntarily' under a process that paid them to withdraw their asylum claims and return to their home countries or travel to third countries. More than 5,000 Eritrean and Sudanese nationals were reported to have accepted 'voluntary return' in the first 10 months of the year, some leaving after facing imminent risk of detention, despite fears that they faced persecution or torture in the countries from which they had fled."
Why so many Africans love and praises Israel regardless of how they are treated?
It could be due to religious reasons or the fact that Africans think Israelis would treat them better than anyone else but this question still remains un answered.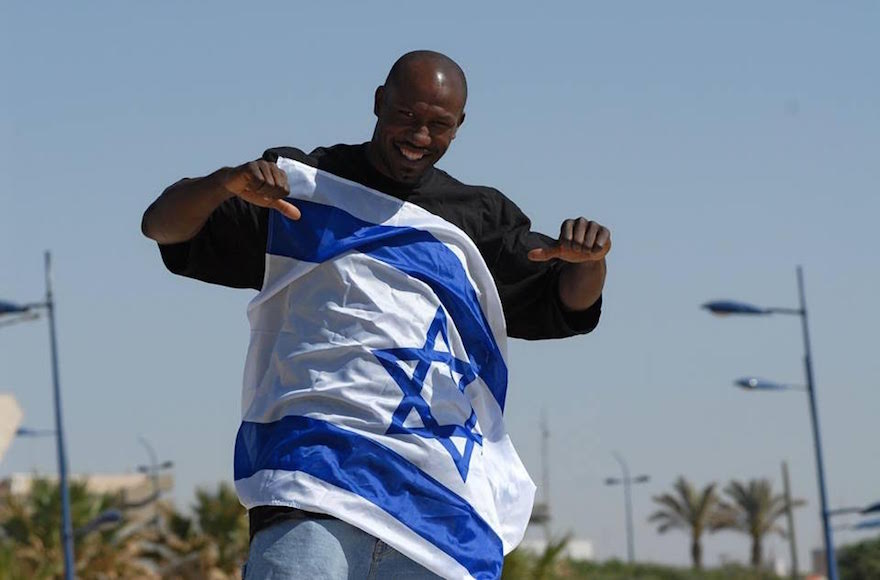 VIDEO: Hate rallies against Africans:
The Israeli newspaper Haaretz mysteriously removed from its website an article exposing atrocious Israeli racism against black people just hours after it was published.
The article by David Sheen – a copy of which was made by The Electronic Intifada before Haaretz deleted it – reported on a rally by Israeli Jews on Sunday in Tel Aviv against African immigrants, demanding that they be sent home because Israel is a "Jewish state." The rally was addressed by Michael Ben-Ari, a member of the Israeli parliament from the National Union party which also favors expelling Palestinians.
We have come to expunge the darkness
The deleted article stated:
The demonstrators chanted "The people demand the expulsion of the infiltrators," "We have come to expunge the darkness," and "Tel Aviv is for Jews, Sudan is for Sudanese."

Ben Ari criticized Prime Minister Netanyahu for allowing African migrants to remain in the county after they had already entered in recent years. He called Netanyahu's cabinet "the blackest government ever for Tel Aviv."
Shocking video of hate rally
Video taken at the rally and posted on YouTube by Sheen, shows some of the vile racism, including by Knesset member Michael Ben-Ari.
Protesters can be heard chanting such slogans as, "Sudanese to Sudan, Tel Aviv is for Jews" and "Their place is in Sudan, not here. This is a Jewish state!"
"Restrict their movements"
Ben-Ari apparently referring to some nearby counter-demonstrators said: "I can see them over there, those who want to destroy our country. I see those who are setting up a welcome tent for the millions of Africans who are on their way here and I tell them it's no use, our response is the Jewish nation lives!"
Ben-Ari and several protesters then broke into singing the nationalist refrain, "The Jewish nation lives."
Ben-Ari then praised the mayor of the Red Sea port city of Eilat for his alleged harsh treatment of Africans. The mayor, Ben-Ari said, "is doing a great job with the Africans there. I only wish we did the same here in Tel Aviv. He doesn't allow them to attend schools, he restricts their movements, he knows what to do."
Africans 'bad for property values'
The handful of counter-demonstrators calling for an end to racism are confronted by some of the protestors and one woman shouts: "Disgusting! Why should my son go to school with 30 Sudanese in a class?"
The same woman adds, "Let's see you take them back home to your neighborhood and then we'll see you complain that your property values are dropping."