Musician Roger Waters performs during his 'Us + Them' tour at the Staples Center in Los Angeles, CA, on June 20, 2017. (Kevin Winter/Getty Images/AFP)
In a letter published by the Guardian on Friday, some 140 artists called for a boycott of the Eurovision Song Contest, which is to be held in Israel next year.
"Until Palestinians can enjoy freedom, justice and equal rights, there should be no business-as-usual with the state that is denying them their basic rights," the letter reads.
Signed by some 140 figures from the arts world — including Pink Floyd cofounder Roger Waters, film director Ken Loach, novelist Yann Martel, musician Brian Eno and playwright Eve Ensler — the letter demands the event should be boycotted "if it is hosted by Israel while it continues its grave, decades-old violations of Palestinian human rights."
Get The Times of Israel's Daily Edition by email and never miss our top storiesFREE SIGN UP
Six Israelis have also put their names to the letter: Musicians Aviad Albert, Michal Sapir, Ohal Grietzer, Yonatan Shapira, and Danielle Ravitzki; and artist David Opp.
British film director Ken Loach takes part in a press conference to mark his receiving of the 'Doctor Honoris Causa' honorary degree of the ULB university, in Brussels, April 26, 2018. (AFP/Belga/Eric Lalmand)
The letter comes a day after the Meteor festival kicked off in northern Israel, despite numerous artists, including Lana Del Rey, pulling out of performing after coming under pressure from the BDS movement — Boycott, Divestment and Sanctions — that calls to shun Israel, ostensibly as a way to press the Jewish state to change its treatment of the Palestinians. Critics say BDS actually seeks Israel's destruction, and Waters, a leading figure in the movement, has been branded an anti-Semite by the Anti-Defamation League.
On Friday, Hadashot TV news reported that the Eurovision contest will be held in Tel Aviv on May 25, 2019, with the semifinals on May 21 and 23.
According to the report, Jerusalem does not meet the criteria required by the European Broadcasting Union for the right to stage the contest — the host venue must host events in the run-up to the competition, act as an international broadcasting center, and must also be hermetically sealed with a cordon, presumably for security reasons.
A source close to the EBU told Hadashot that an announcement would not be made before Israel responded to a letter conditioning hosting on a governmental guarantee that it will grant visas regardless of visitors' political opinions and let contestants hold general rehearsals on Shabbat.
Israel last year passed a law enabling authorities to refuse access to supporters of boycotts against the Jewish state or of its West Bank settlements. It has since been making use of that law, and has detained many people at Ben Gurion Airport suspected of activism against Israeli actions.
The EBU letter also demanded that Israel lift any religious restriction on holding events related to the contest on Shabbat, the Jewish day of rest, which begins Friday night and ends on Saturday evening.
Israelis celebrate the victory of Netta Barzilai at the Eurovision 2018 song contest, Tel Aviv, May 12, 2018. (Flash90)
Eurovision general rehearsals are usually held coinciding with the Jewish Sabbath, and ultra-Orthodox parties have previously demanded that they be rescheduled in Israel. They have threatened to call early elections over a number of issues, including railway works on Shabbat.
The letter also demanded that the Kan public broadcaster be given complete independence in holding the broadcast.
A government representative, preferably Netanyahu himself, must formally declare that they will adhere to the demands, the EBU letter said.
On Friday a tweet from the official Eurovision page denied that a decision had been made about the host city, saying that both Tel Aviv and Jerusalem had "submitted extremely strong bids which meet the needs of the Contest."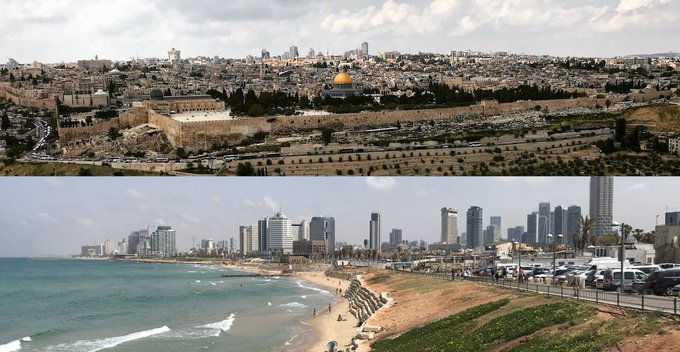 Update on the Host City in Israel
"Despite ongoing media speculation, no decision has yet been made by the EBU as to which city will host the 2019 Eurovision Song Contest. Tel Aviv and Jerusalem have both submitted extremely strong bids which meet the needs of the Contest."
1/2
Israel won the Eurovision Song Contest for the first time in two decades on May 12, when Netta Barzilai snagged first place with the women's empowerment anthem "Toy."
Israel's Netta Barzilai celebrates after winning the Eurovision Song Contest in Lisbon, Portugal, May 12, 2018. (AP /Armando Franca)
Barzilai's win meant Israel would host next year's Eurovision competition — an event expected to bring many thousands of fans and worldwide exposure to the Jewish state.
A spat between the Kan public broadcaster and the government over funding had cast doubt on whether the 2019 Eurovision Song Contest would indeed take place in the Jewish state, but a last-ditch deal reached last month seemed to clear the way for Israel to host the competition.
Agencies contributed to this report.